EIF is dedicated not only to serving students at its middle and high schools but also to the broader communities in which students live. In order to reach these communities, EIF has implemented its EIF Mobile program as well as committed to partnering with vital community organizations. Due to COVID-19 restrictions, EIF Mobile has been limited in its community outreach opportunities. We look forward to resuming normal activities as soon as possible.
EIF Mobile
An EIF mobile unit, fitted with computer technology, internet capabilities, and expert advisors, travels to communities to give students, parents, and community members the opportunity to:
Complete post-secondary and financial aid applications
Create resumes
Explore careers
Register for the ACT/SAT
Receive answers to their post-secondary education questions and concerns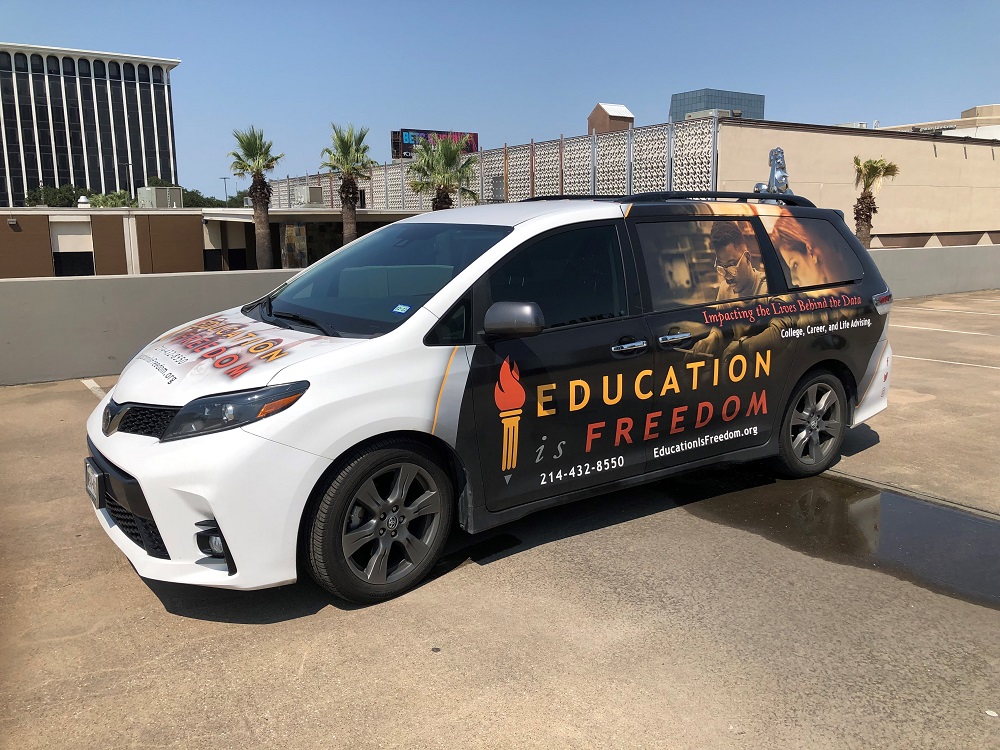 By making EIF services more convenient and accessible to the public, EIF will expand its reach and serve more students and their families across a larger geographic area. Expanding EIF with the Mobile EIF initiative has the potential to evolve into an enduring national campaign. Taking EIF on the road promotes higher education in North Texas and will give EIF the opportunity to assist students in lower income communities who may otherwise lack access to the types of resources that EIF provides.
The long-term goal of Mobile EIF is to expand the geographic footprint of the EIF program and increase the number of traditionally underserved young people attending and graduating from postsecondary education institutions and enjoying rewarding careers. In addition, the program will provide more general community outreach services, linking residents to essential social services, organizations, and knowledge base within the local area.
Our Partners
Accenture
Celanese
City of Dallas
City Year
Commit!
Dallas Public Libraries
Deloitte
Dove Springs Proud
Hispanic Women's Network of Texas
Las Llaves del Exito (DCCCD)
Mayor's Star Council
Pipeline to Possibilities
Shift Smart
Southeast Dallas Hispanic Chamber of Commerce
State Fair of Texas
THE COMPELLING WHY at UT Dallas
UNCF National Tour
United Way
Univision
UT Outreach
Toyota
Our University Partners
Dallas County Community College District
Prairie View A&M University
Southern Methodist University
Texas Southern University
University of Texas at Arlington
University of North Texas